Ullapool
Ullapool is a picturesque fishing village, nestled on the shores of Loch Broom and located in the North West Highlands of Scotland, the country recently voted the world's third best to visit by Lonely Planet. The summer of 2014 saw Scotland host a hugely successful Commonwealth Games.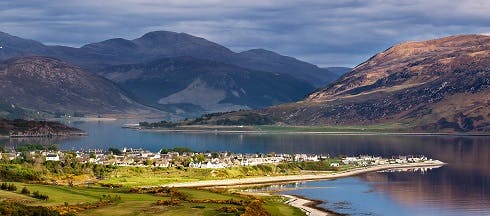 Ullapool is a vibrant village planned by Thomas Telford, the great Scottish civil engineer and architect, and his influence is still present today. Ullapool acts as the gateway to the Highlands and, via ferry, to Stornaway and the Hebrides. Outdoor Fitness Magazine has named Ullapool as one of the top ten outdoor towns to visit in the UK and the Hebrides were voted one of the top ten islands of the world to visit by Trip Advisor.
Ullapool is a popular tourist destination, offering a large and varied array of events and activities throughout the year. There are some superb restaurants, making the most of fine local produce, a wide choice of pubs and bars offering great ales and whisky, together with plenty of live music.
The Macphail Centre hosts visiting theatre, music and dance companies.
The Screen Machine, a travelling cinema, visits Ullapool every few weeks and shows latest film releases.
Artists display and sell their work at several galleries in and around Ullapool.
You can take boat trips around the isles from the harbour front or catch the ferry to Stornaway.
There are fantastic fishmongers and butchers, fish & chip shops, a delicatessen and a fish and cheese smokehouse. Tesco food supermarket is open until late every day for all necessities and there is a petrol station.
Every Thursday from mid June to mid September you can enjoy a display of pipes, drums and highland dancing at the Pier Head car park.
Every Saturday, during the summer season, there is a local market offering a wide variety of items made by local craftspeople and artisan foods.
The Ullapool News is a weekly publication that gives up to the minute information about activities happening in the town and surrounding area.
Ullapool hosts many major events such as:
the Ullapool Dance festival held in March
the Ullapool Book Festival held in May
the Skiff Rowing Festival in July
theTall Ships visit in August
the Loopallu Music Festival held in September
the Guitar Festival in October
Sealoch House is only a 15-20 minute drive ( approx 10 miles) from Ullapool on the quieter side of the loch so offers the best of both environments.
As featured in
Featured on 100 BEST GUIDE luxury self catering in the Scottish Highlands
Luxury self catering in the Ullapool
The article of 19th February 2015 in Golf Life & Travel celebrates Ullapool and features Sealoch House.